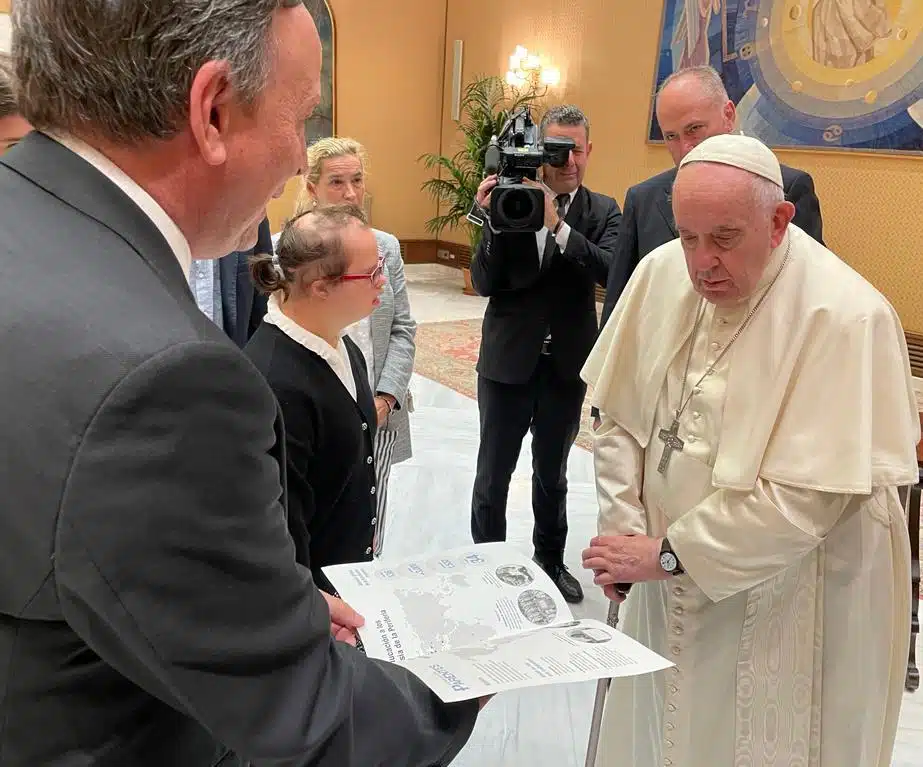 During a private audience, Pope Francis acknowledged with affectionate words the apostolic mission of the Parentes Foundation.
Among the topics discussed, were the cooperation and assistance to different charisms of the Catholic Church, as well as its International Educational Network.
The Parentes Foundation is present in 34 countries in different continents, with a global reach of 136 schools, more than 3,000 students and 1,500 teachers.
Madrid, December 1st – Last month, Pope Francis received Parentes Foundation in audience. During the meeting, the Holy Father was informed about the work of the Foundation and its mission to contribute to the formation of children and youth.
One of the central themes was the work of cooperation for development that the Foundation carries out, and which aims to ensure that the different charisms of the Catholic Church do not lose the ability to impact their environment. 
Some of the projects presented to Pope Francis were the aid given to the Religious of Jesus and Mary in Pakistan or to the Action, Development and Sustainability Association in Ethiopia.
Mention was also made of the need to continue promoting training projects for school leaders and teachers in very diverse environments and circumstances.
Pope Francis, after listening attentively, showed his support to the Parentes Foundation with these affectionate words: "When an organization goes beyond its borders and does good beyond its place of origin, it is a sign of the authenticity of its apostolic mission".
Among the topics discussed with the Holy Father, the International Educational Network stood out, due to the importance of education as an engine of change in society.
Schools such as Šeimų darželis (Lithuania), St Bede's College, The Cedars, Oakwood and The Laurels School (United Kingdom), Lotrščak and Ružičnjak (Croatia), Parentes CZ (Czech Republic), Azobé and Tiama (Cameroon), Los Pinos (Ecuador), Liziba and Bozindo (Congo), Etimoé and Makoré (Ivory Coast), were also present at the conversation.
Currently, the Parentes Foundation – in its areas of training, cooperation and educational network – develops projects with a global reach of 34 countries in Africa, Europe, Asia and America; which includes actions in 136 schools, from which benefit more than 3,000 students and 1,500 teachers.
Attachments: